I was reluctant to start listing on Etsy.

When I first opened my storefront, I decided to treat it like I was going fishing. I don't mean that in a derogatory sense, (My clients are not fish,) but with the intention that one throws out their line, and waits for a fish to nosh.
It is a joy to open my emails, and find that I have a bite.

Sometimes it is just a nibble, meaning that I got a heart, or someone asked me a question about an item.
I don't sell very much, especially these past four months. Flat-line.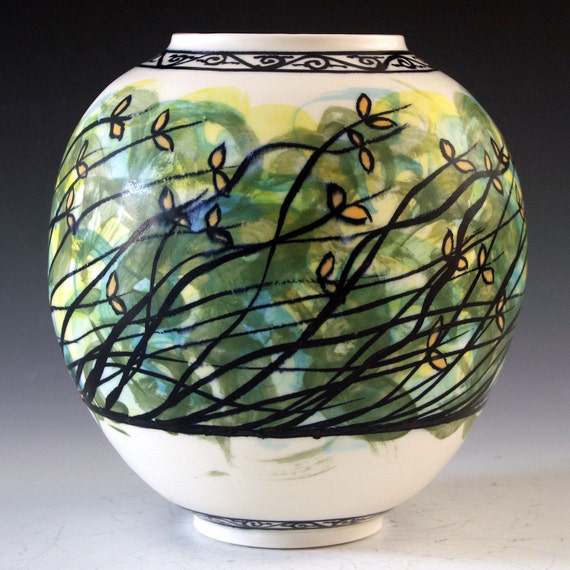 Ceramic and pottery porcelain vase
7" X 7"
I have looked at the basic cost of selling on the Etsy, and other platforms, and found that the figures, work out to basically to the costs of selling wholesale, but without the drudgery of having to fill large orders.
Now don't get me wrong. My Etsy prices are the same as what I sell on the street.

My n

et revenue, however, is reduced due to the listing fees; packaging material costs; postage; Internet fees, and the car trips to and from the post.

Other reasons for reduced revenue occurs when I get buyers that take advantage of the shipping times to charge back the sale, due to the item not arriving within the specified dates, (and then, when the item does arrive, they just keep it.)
Then there is the client who refuses to pay some local sales taxes that are levied by their country or state, or a broker fee because they insisted on shipping UPS or FedX, thus resulting in a refusal of the package. As the seller, I would have to pay for the return shipping, or I can just let the postal offices sell it off, as unclaimed goods.
There is also a buyer mentality that expects the seller to pay the shipping.

This is due to the big guys, like Amazon, arranging contracts for cheap shipping with UPS or the post office.

These benefits are not available to the little guy.
The buyer also expects a return policy, without discussion. This happens because of remorse, or the guilt of impulse buying.
It doesn't take long to rack up expenses.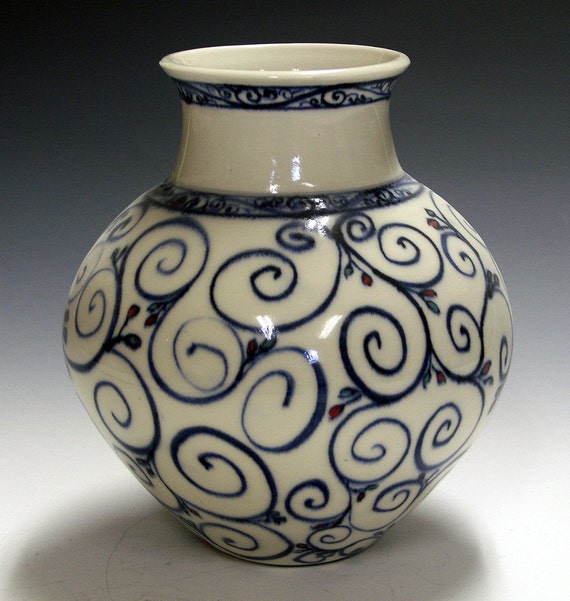 Porcelain vase classic antique style ceramic for home decor and art
The positive side of Etsy is that I have found many return customers.

Many have become off-site clients.

I have also received some small contracts to supply small businesses with ceramic objects, with their logos.
Etsy also lets me do, what all artists want. They allow me to show my creations. It is like having a permanent gallery show.

Etsy has a pretty good statistic page.

They began collecting the stats 2011.

Since they started counting, I have had over 20,000 visitors to my store front, and over 45,000 sets of eyeballs, on my work.

Etsy members both buyers, and sellers have awarded me over 5,000 hearts.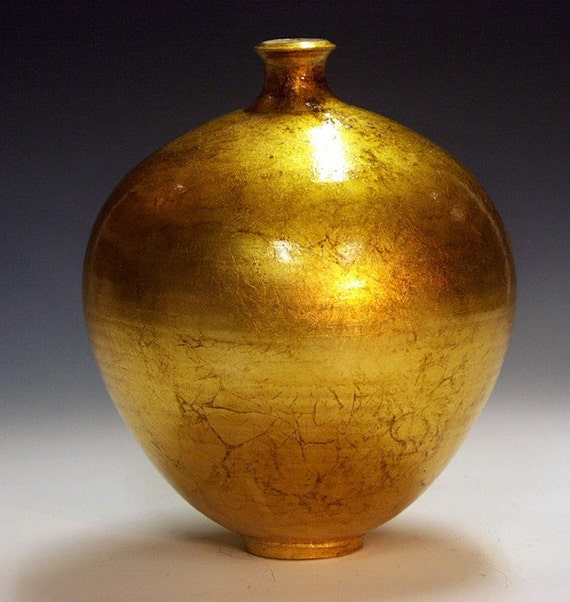 Gilded Porcelain Bottle Vase
10" by 8" wide

The down side of Etsy is that we, the seller, works like a share cropper.

We do all the work ,and Etsy comes around monthly to pick up their share.

They can close your down without any real appeal.

Your store can be there one day, and not there the next.

They are also the real Big Brother.

They cruise about the forums, and If you make a "call-out," they can shut you down on a blink of an eye.

The judges and jury are just employees, and if they have a bad day, you can have one, as well.

Etsy can also change the method of selling or the rules of the game without notice. You just have to adjust or close. You have no say in the matter.
Etsy also brings in many store owners who are not really serious about selling, but they take away the eyeballs, and sometimes the cash, that could have come to you. It also brings out the fraud artists. They steal from both buyer and seller.

This in turn gives sellers a bad name.
Potential clients become cautious about committing to a purchase. Sellers have to always be aware of the language, and the methods of scammers.

Then there are the resellers.

This is not supposed to be allowed ,but the administration cannot shut them down fast enough.

They just keep on coming. There is a continuous battle against the resellers.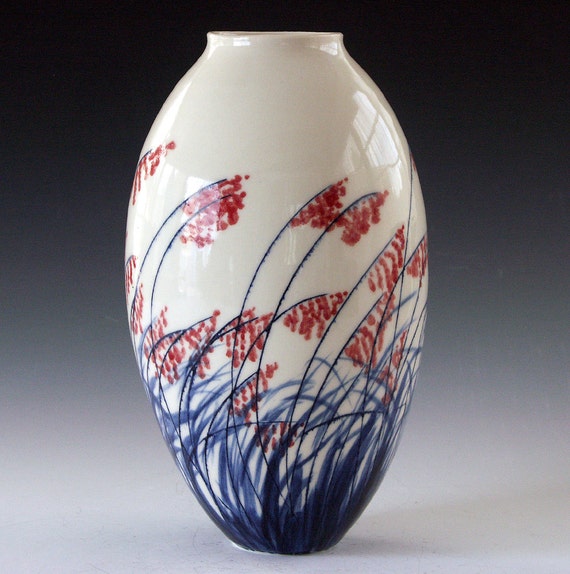 Ceramic and pottery vase, fields of red.
11.5" by 6"wide
Then there are the search engine owners, (The big guys like Google,) who change their code and algorithms,

thus requiring a complete rewrite of all your key words, and descriptions.

Google does not like duplicate listings, so if you do a lot of cut and paste of titles and descriptions, you could become invisible.
There is a lot of chatter on the site about quality. I don't get into the discussion, because I believe the best jury is the public. The down side to this is that the public often has no idea of the tricks of Photo shop, and how photographs can deceive the client. Many become disappointed with their purchase, due to it not looking as good as the photograph.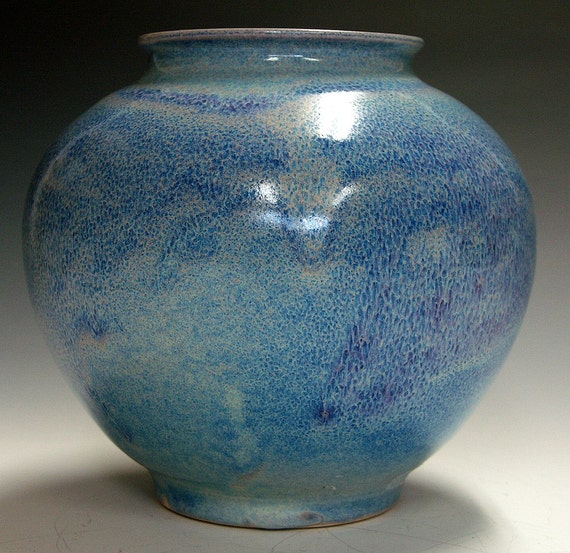 Porcelain collectible vase turquoise blue chun glaze
This vase is from my gas firing days.
5" by 7" wide
I do have some other positive points. I improved my logistic knowledge. I can package more economically with less breakage. Some of my clients have become good friends. My photography has improved. My marketing skills are improving. I keep a better inventory records. I also have at my fingertips a file of good quantity photographs, of my work. Finally, I have a reason to open my computer every day. Ops! I got another bite.